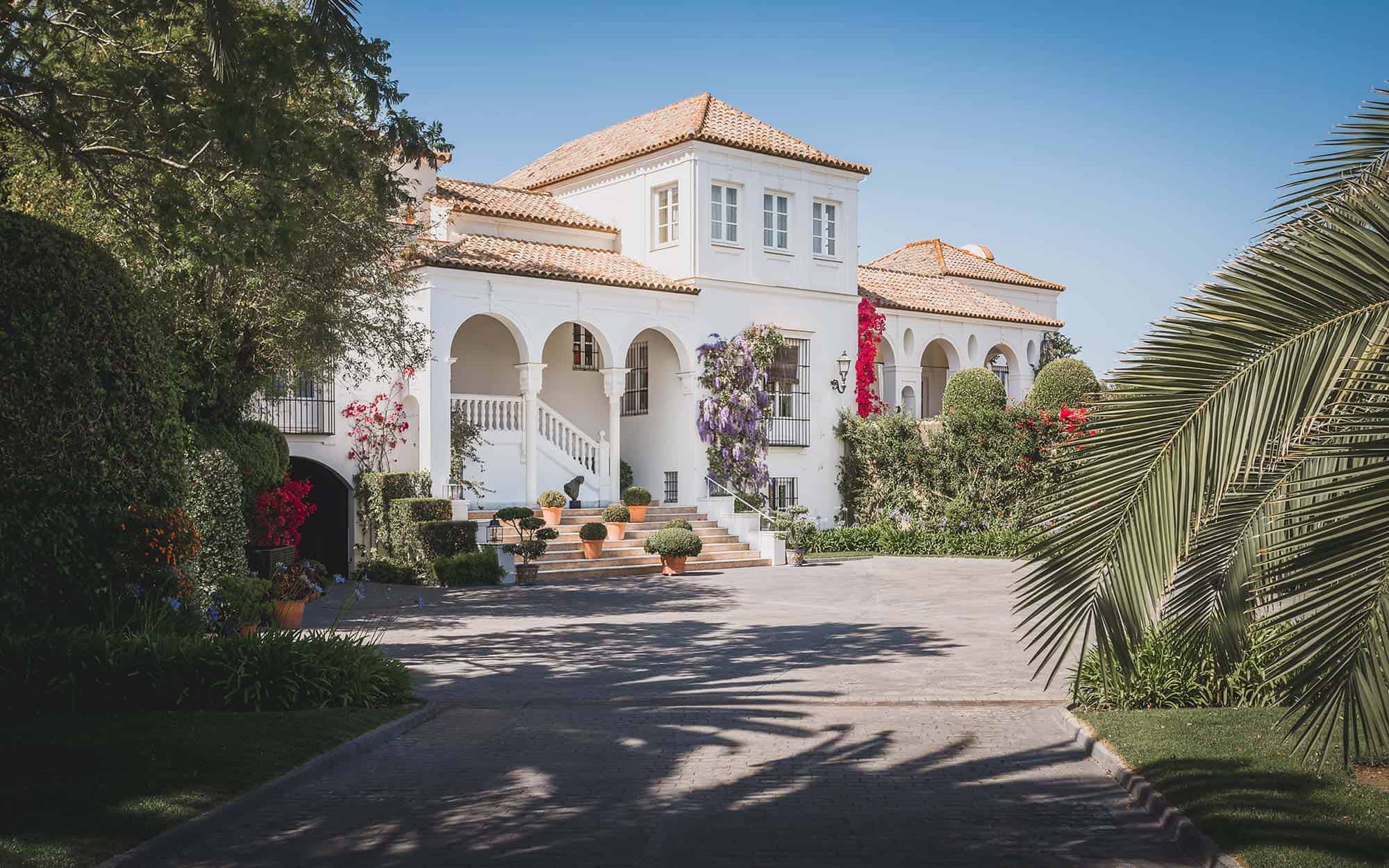 Extraordinary Frontline Golf Residence in Altos de Valderrama, Sotogrande
Impressive mansion set on an extensive plot within one of the most exclusive residential complexes in Sotogrande, Altos de Valderrama.
Sotogrande is one of Spain's most prestigious and secure residential complexes. It has a stunning harbour, a jewel on the Mediterranean coast, unspoilt nature, wonderful climate and is very popular amongst golf and polo enthusiasts.
This extraordinary 10-bedroom property is set on a total of 7 magnificent plots and is located on the 5th hole of one of the world's finest and most exclusive golf clubs, The Real Club de Valderrama – which has been home to the Ryder Cup in 1997. The property was carefully designed for the owner by non-other than Spain's most prominent architect for classical architecture, D. Rafael Martos Manzano. Winner of the Richard H Driehaus Prize. Rafael, is highly esteemed for his work in the preservation of Spain's most precious historical monuments and has been involved in the reconstruction of masterpieces such as the Mandinat de Al-Zahara in Cordoba, the Alcázar de Sevilla, and many more, (which showcase the Islamic architectural influences, legacy of the Al-Andalus Empire.) His architecture is coherent with the inherited historical legacy always adapting it for the needs of today.
The grounds add up to just over 22,000 m2 allowing for extensive sweeping lawns formal gardens, play areas for young ones, and orchard, a vegetable garden, and a swimming pool. The main house is built to the highest standards of the period. It is distributed over three levels, it offers many reception areas, as well as a number of patios and terraces.
Formal reception rooms are complimented with homely rooms such as a games room, a study, a library and a bar. The formal dining room, one of the many features of the villa, has a wonderful, vaulted ceiling and striking marble floors. The dining room is served from a large professional kitchen well equipped to cater for large gatherings. The sleeping accommodations consists of a master bedroom with twin bedrooms, dressing rooms and an adjacent study. Two guest suites, plus a further three guest bedrooms with adjoining bathrooms, two children's bedrooms with a shared bathroom, a large child dormitory and two staff apartments.
The property boasts a swimming pool pavilion containing a large dining area and a fully equipped kitchen and BBQ area, as well as bathrooms and changing areas. The grounds are beautifully manicured combining elegant, landscaped gardens with cork tree forest.
The villa is infused with this sense of history. The beautiful elements of classical architecture, stunning craftsmanship, and the Moorish and Persian influences are elegantly reflected throughout the estate. The formal dining area offers a grand space for entertaining with its beautiful vaulted ceilings. The gardens are simply extraordinary – on one side of the property one finds a Mediterranean garden – there are large green lawns lined with Florida palm trees.
A breath-taking formal garden is situated at the back of the pool house. This manicured garden is composed of a maze of stunning vegetation and flowers, a cork tree forest, with streams, cascades and bridges. This truly sensational garden is evidence of a labour of love. The stunning summer house, located beside the pool is ideal for al fresco dinning and entertaining guests.
This property is ideal for formal entertaining and enjoying with friends and family, as a first residence and as a holiday home.
Copyright: Casa La Manzana 2021